Keystroke capture software for Mac OS X
Keystroke capture software for Mac OS X is designed to monitor overall computer and internet activities including Keystrokes details, Clipboard content, Skype video screenshots, Application accessed, USB removable media insertions, Internet activities and captures screenshots at regular interval of time.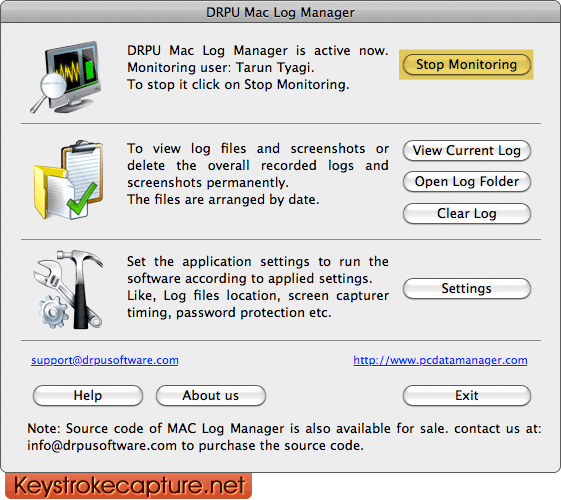 Keystroke capture software for Mac OS X monitors user activities while using Apple Macintosh computer.Simple and easy to function mac keylogger provides highest standard solution to record system and internet activities in complete surveillance mode.
Keylogger helps:
Key loggers software beneficial for Parents, Office managers, Institutions (School and University), Internet cafes, Computer lab, Network administrator, PC owner and other people to track and monitor, activities performed on computer.
Keystroke capture software for Mac OS X records all keystrokes that are performed by external users on your Mac computer. If you are a worried Father (due to your kids computer activities), Manager (due to your employees mac machine working status), simply use mac os x keylogger software and expose the truth right now.
Keystroke recorder software records various activities including –
Keystroke details,
Clipboard contents,
Application open and closed,
Internet activities mainly including typed web URL, Login details, Chat conversations (Yahoo, Gmail, Facebook, MSN), Search engine searches and other activities in stealth mode.
USB device Insertion and removable activities.
Mac osx keylogger captures screenshots at regular time intervals with option to capture Skype screenshots.
Other keylogger mac osx software features
Keystrokes monitoring tool for Mac OS X is password protected utility to prevent unauthorized access.
Key stroke logger program generate log report in HTML file format.
Apple Macintosh keylogger application runs in complete stealth mode.