Keystroke Capture software – Professional
Highly optimized Keystroke Capture software – Professional provides opportunity to protect with password, so that nobody can access the software. Keystroke recording utility works in stealth mode and bypasses all major anti keylogger and spy programs. Download Advance Keylogger Software free try demo to understand and evaluate software features and functionality.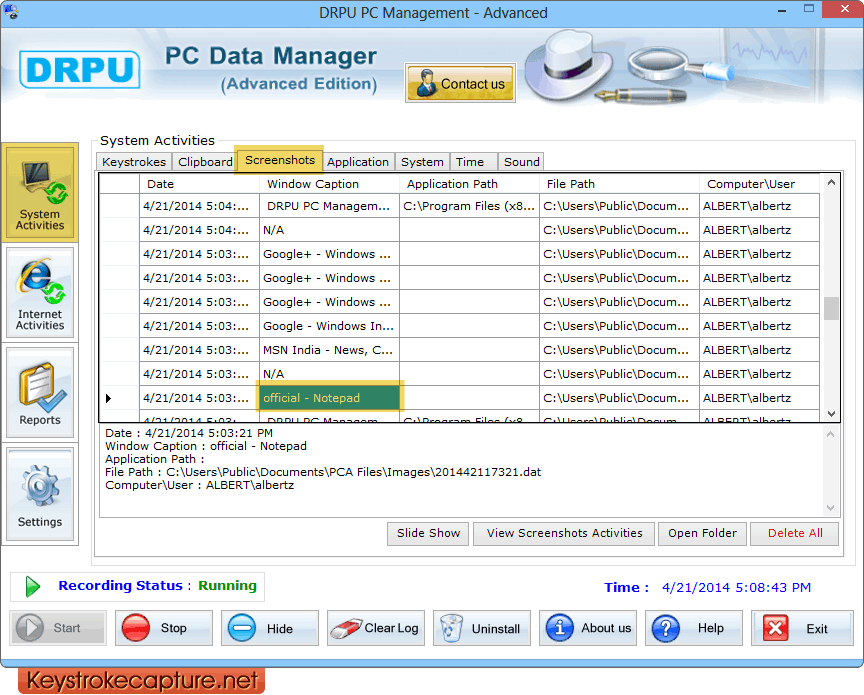 Key stroke recorder program runs in invisible mode on windows system and does not appears on Desktop, Add/remove program list, Start menu and even hides software installation files and folders.Key logger surveillance software easily record Keystroke, Clipboard, Application, System activities, Voice chat conversations and captures Windows screenshots periodically at regular interval of time to get exact external user activities details in easiest and accurate way.
Keystroke capture software – Professional is one of the best solutions to monitor all typed keystrokes activities of your children, family members, relatives, friends on computer system in your absence.Cost effective Keystroke activity monitoring tool save all recorded keystrokes in encrypted log files with user friendly, easy to use logs, which is automatically send to user specified e-mail address. Keylogger software provides facility to set hot key and run command to access the application if it runs in hidden mode.
Keystroke Capture software – Professional useful for:
Parents: - Parents can easily detect children activities on PC including
Visited website details
Read every sent email
Online chatting on Yahoo messenger, Windows messenger, Gtalk etc
Office Manager:- Office manager easily detect employee's activities in working time on PC
Web surfing activities
Chat conversation on AOL, MSN, AIM, Yahoo and other popular chat messengers
Search engine searches
View all files and document saved on the computer
Computer Lab and Internet Cafe: - Key logger software will let you find out what the user have been doing on the computer system.
Network Administrators: - System owner can easily capture external user activities performed on computer system.
Software Features
Fully capable to record unauthorized user activities on computer system in your absence with advance facility to capture keystroke, clipboard activities and Windows screenshots of entire Desktop or active windows at regular interval of time.
Easily trace internet activities including visited website, temp files and cookies and export recorded data in excel file formats.
Provides facility to send log file at user specified email address or upload log files via FTP settings defined by you.
Key stroke recorder program provides opportunity to protect keylogger with password, so that you can easily prevent external users to access the software configuration settings.
Easily generate reports of recorded data in txt and html file formats in an accurate way.
Provide facility to view backup of the records for future reference.
Keylogger run in Standard or Hidden mode.
Attractive GUI Interface
Keylogger software provide interactive graphical user interface and makes it easy to use for beginners and novice user. No special technical skills or training is required to configure and operate the software.